Summary
Work Life Integration > Work Life Balance!
Purpose is the point of integration and the ONPURPOSE.me module sharpens that point to a 2-word purpose. Introducing purpose into this personal leadership development topic shifts the perspective to a deeper level of understanding and practical application to create a more meaningful life.
Work Life Integration provides a holistic merger where proportion and timing, more like a cooking recipe, are at work. Follow the recipe and you're likely to produce a more consistent result rich in learning and improvement minus the guilt.
The concept of "Work Life Balance" is a long promoted "principle" rich in potential and short on successes. In an increasingly complex society rife with many demands, life balance was the best model we had for decades. Life balance throws Life and Work in opposition to one another while also excluding other areas of life such as health, emotions, and intellect. By placing work and life in distinct compartments, the idea of a balanced life ultimately pits us against ourselves. That's a no-win contest.
For all the well-intended advocates of Work Life Balance, this notion of what can be creates a zero sum game — the exact opposite of what we're seeking. A well-balanced life is a myth!
Even worse, Work Life Balance is a delicate ideal that too often leaves us drowning in discouragement and feeling like failures simply because we didn't achieve the unachievable.
Purpose introduces an even deeper point of reference in the Work Life Balance. With the benefit of purpose, we gain a healthier and more whole perspective on the Work Life field of battle. Purpose is the starting point for integrating every aspect of one's life and work. Work Life Integration is more than a promise; it's a practicality found in being on-purpose.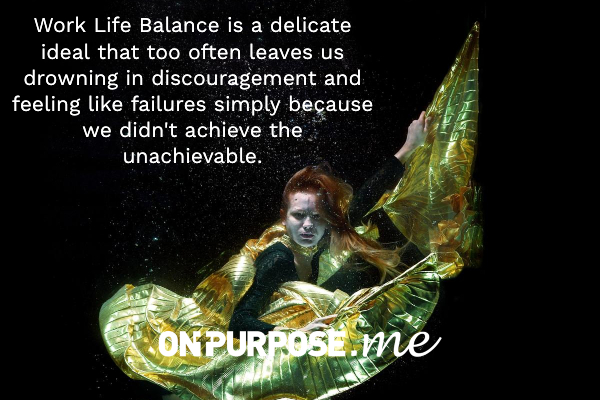 Target Audience Training Application
The ONPURPOSE.me module powers up your training by clarifying what is purpose and how it is the source of meaning, fulfillment, and peace even in the midst of chaotic or confusing times.
Health and Wellness: Until a person has a reason to be healthy, they won't be unless predisposed or genetically fortunate to remain in good health.
Burnout and Workaholic: Consider life out of proportion rather than out of balance. By the way, each person sets the standard for their proportion.
Mindfulness and Consciousness Training: Knowing their 2-word purpose awakens a person to their deep state of being and identity.
Recovery: Dysfunction needs professional help. The ONPURPOSE.me module provides a backdoor to the point where a plan of recovery is possible. In fact, The On-Purpose Approach has been positively called "The 13th Step" of a 12-Step program — the means and method to live with one's dysfunction but more intentionally operate from their function.
Resources
Yes, Work Life Balance is the norm, and On-Purpose challenges that norm. The following resources provoke the conversation and invite you to consider a fresh perspective.
Blog:
Books:

The On-Purpose Person: Making Your Life Make Sense is an operating system for life to go from unfulfilled to fulfilled. The system within the book can be applied broadly across one's life or specifically to one's vocation or work. Start at page 63 to read specifically about balance and integration.
The Discovery Guide is a companion workbook to The On-Purpose Person with the many forms and more detailed instructions for self-study. This guidebook includes Want Lists and Tournaments so each person can clarify their Core and TOP Wants within their Work/Vocational life account and their other life accounts.

Videos:
Customization
Need further help customizing and integrating ONPURPOSE.me and your training objectives and outcomes? Join a live On-Purpose Presenter–only video conference call to ask questions or invest in a one-hour consultation. We'll help you better connect the dots of the ONPURPOSE.me module to your program and learner outcomes.